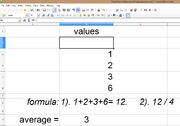 About
In mathematics and statistics, average [also called the mean] is the sum of a list of numbers divided by the size of the list. "In other words it is the sum divided by the count." [1]
Example
Count:
Un-arranged values are:
Re-arranged values
step by step: 

1. rearrange values from least to greatest for example:
2. Add all values to calculate sum for example:
3. divide
[4 is the count]
4. average [mean] =
References
↑ Mathisfun. "How to find the mean." Accessdate: http://www.mathsisfun.com/mean.html 6/21/8
Links
Ad blocker interference detected!
Wikia is a free-to-use site that makes money from advertising. We have a modified experience for viewers using ad blockers

Wikia is not accessible if you've made further modifications. Remove the custom ad blocker rule(s) and the page will load as expected.