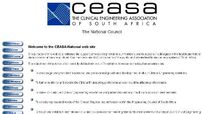 About
Clinical Engineering Association Of South Africa (CEASA) purpose is to enhance the support services we provide to our members and to assist our colleagues in the healthcare field to understand what we are all about. Our members are vital components of the public and private healthcare delivery system of South Africa.
Contact
Phillip Wilmot, President
References
Links
Ad blocker interference detected!
Wikia is a free-to-use site that makes money from advertising. We have a modified experience for viewers using ad blockers

Wikia is not accessible if you've made further modifications. Remove the custom ad blocker rule(s) and the page will load as expected.