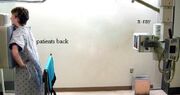 About
Posterior Anterior (PA) position is with the patients stomach facing the cassette and the patients back towards of the x-ray machine. This distance diminishes the effect of beam divergence and magnification of structures closer to the x-ray tube.[1]
Reference
↑ Spencer B. Gay, M.D., Juan Olazagasti, M.D., Jack W. Higginbotham, M.D., Atul Gupta M.D., Alex Wurm M.D., Jonathan Nguyen M.D. "Introduction to Chest Radiology: Positioning." University of Virginia Health Sciences Center: Department of Radiology. http://www.med-ed.virginia.edu/courses/rad/cxr/technique3chest.html
Links
Ad blocker interference detected!
Wikia is a free-to-use site that makes money from advertising. We have a modified experience for viewers using ad blockers

Wikia is not accessible if you've made further modifications. Remove the custom ad blocker rule(s) and the page will load as expected.