About
In calculus, the power rule is one of the most important differentiation rules. Since differentiation is linear, polynomials can be differentiated using this rule.

The power rule holds for all powers except for the constant value
which is covered by the constant rule. The derivative is just
rather than
which is undefined when
.
The inverse of the power rule enables all powers of a variable
except
to be integrated. This integral is called Cavalieri's quadrature formula and was first found in a geometric form by Bonaventura Cavalieri for
. It is considered the first general theorem of calculus to be discovered.

This is an indefinite integral where
is the arbitrary constant of integration.
The integration of
requires a separate rule.

Hence, the derivative of
is
and the integral of
is
.
Problems
A simplified method for calculating the power rule formula.

step 1: multiply 7 x 1 which equals 7 and place the product (answer = 7) in front of "x".
step 2: subtract 7 minus 1 = 6 which equals its exponent.
References
Links
Video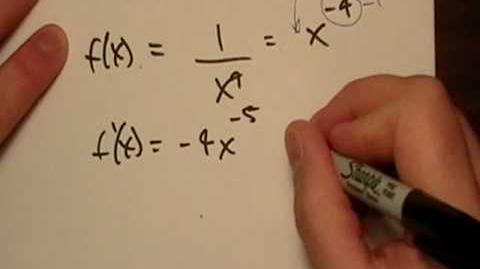 Ad blocker interference detected!
Wikia is a free-to-use site that makes money from advertising. We have a modified experience for viewers using ad blockers

Wikia is not accessible if you've made further modifications. Remove the custom ad blocker rule(s) and the page will load as expected.